Virtual offer for young people ever increasing via YEPS service
The Council's Youth Engagement and Participation Service (YEPS) continues to expand its daily activity and support for young people – from virtual youth clubs to Zoom challenges, Instant Messaging sessions and online activities.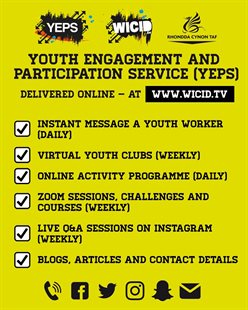 Schools and youth clubs currently remain closed due to the Coronavirus national emergency, but YEPS is continuing its support for young people, operating via 
www.wicid.tv
 and its social media platforms. Its range of interactive content is helping young people to stay connected and receive support. Here are some of the activities currently being operated by YEPS:Instant Messaging sessionsWHAT?  Youth workers are on hand to answer queries and have a chat.WHEN?  Every weekday, from midday-2pm and 6pm-8pm.WHERE?  Visit the Wicid.TV homepage, and press the pink chat button.--------------------Virtual Youth ClubsWHAT?  Existing youth clubs are meeting virtually via Zoom – including five in Rhondda, four in the Cynon Valley and seven in the Taff area.WHEN?  They meet on one night a week, from 6pm-7pm.WHERE?  Click on the following links which contain information on how you obtain your Zoom code for each club - 
Rhondda
, 
Cynon
 and 
Taff
.--------------------Online Activity ProgrammeWHAT?  Five daily activities are being published by the YEPS team.WHEN?  The activities are accessible from midday on Monday to Friday.WHERE?  The programme and links can be found on Wicid.TV, 
here.
--------------------Weekly Zoom sessionsWHAT?  Interactive challenges, courses and sessions (everything from doing sit-ups to learning about photography and magic tricks!)WHEN?  There's lots going on across the week – timetabled 
here
.WHERE?  The sessions are hosted on video conferencing, via Zoom.--------------------Instagram Q&AWHAT?  YEPS goes live with two members of staff to answer questions submitted by young people, and to generally have some fun!WHEN?  Every Wednesday evening, from 6pm.WHERE?  It's hosted on the 
YEPS Instagram account - @yepsrct
.--------------------Wicid.TV also has blogs, articles and agency contacts – including mental health staff sharing relatable experiences and signposting for those in need. There is also a host of wider issue-based support and information, while a fun social media challenge relating to staying at home is run each week.
Councillor Christina Leyshon, Rhondda Cynon Taf Council's Cabinet Member for Children and Young People, said: "The Coronavirus emergency has brought big challenges and uncertainty for young people, and it's a time when mental health and well-being needs have increased. Therefore our YEPS service – and its ability to reach out to young people who need support at this unprecedented time – is invaluable."A virtual offer from YEPS has been running since the Coronavirus emergency started, and is ever-increasing. It's great to see new technologies being embraced to allow 16 of our youth clubs to meet once a week, for example, and for youth workers to reach more young people through Instant Messaging sessions, video conferencing, online activities and social media Q&As."I'd urge young people across the County Borough to visit Wicid.TV – where these activities are being coordinated – to see how they can get involved."