Tylorstown Landslip Remediation – update on progress in 2021
More information will be published next month with a comprehensive list across wales with info and data from other agencies like Coal Authority and Welsh Government.
The Council has provided an update on the further progress made so far in 2021 towards the Tylorstown Landslip Remediation Plan – which is illustrated by new drone footage showing the current appearance of the site.The landslip occurred on the Llanwonno hillside at Tylorstown during Storm Dennis in February 2020, when Rhondda Cynon Taf recorded record rainfall and suffered its most severe flooding since the 1970s. The landslip, consisting of 60,000 tonnes of spoil material, blocked the river valley, damaged a foul sewer, covered a strategic water main and covered a footpath/cycle path.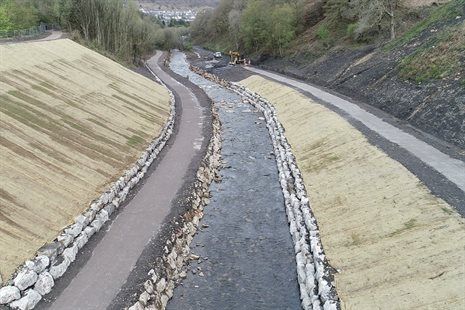 The Council has identified a phased Remediation Plan – emergency drainage works (Phase One), embankment scour repairs (Phase Two), removal of slip material to receptor sites and temporary reinstatement of paths (Phase Three) and remediation of hillside material (Phase Four). This will then allow for an Active Travel community route to be delivered from Maerdy to Pontygwaith.Phase One was completed as an immediate measure in the aftermath of the landslip, while Phases Two and Three emergency measures got underway during June 2020.Throughout 2021, the Council has made further important progress towards these two phases – having also secured retrospective planning permission for the temporary receptor sites from the Planning and Development Committee on January 21. On site, recent key progress has included:
The removal of landslip material from the valley floor.
The reinstatement of the river to its correct line and level.
Temporary stockpiles at the receptor sites which are being shaped to a suitable profile, with drainage work also ongoing for these sites.
The reinstatement of the western path.
The clearing out of drainage channels.
The completion of drainage work to the mid-slope hillside area.
Councillor Andrew Morgan, Leader of Rhondda Cynon Taf Council and Cabinet Member with responsibility for Highways and Transportation, said: "The latest images from the Tylorstown Landslip site show the significant progress which has been made since the New Year – notably the removal of the remaining landslip material from the valley floor, with all 60,000 tonnes of spoil now removed since Phase Two of the Plan began last summer."The Council's contractor has reinstated the river to its former line and level, after it was significantly altered by the landslip. Part of the cycle route will have to remain closed on the eastern side of the river but the paths on the western side of the river will be reopened as soon as this latest phase of work is completed."The receptor sites continue to be used to hold the spoil material, with one of the two sites now near its full capacity for what was planned. An important engagement exercise for the upcoming months will be to consult residents and stakeholders about the future use of these two receptor sites – and the Council will communicate further details about this process in due course."Looking ahead to summer 2021, an important next stage on site is to carry out stabilisation to the mountain face, while the Council will also look to submit a planning application for Phase Four of the Remediation Plan – which could see work in relation to the hillside material commence next winter or spring."The Council remains committed to securing funding and carrying out these works to rectify the Tylorstown Landslip – and bring the area into use as part of a wider Active Travel route in the future. We will continue to keep residents up to date with all of the major developments as this project is progressed."
Posted on Monday 24th May 2021