Storm Dennis - one year on and no Public Inquiry by Welsh Government WHY?
Exactly one year ago to the date, residents and businesses in Rhondda Cynon Taf were hit by one of the worst flooding events in living memory.
But so much devastation could have been avoided by better maintenance and management of culverts watercourses and floodplains.  
http://www.aberdareonline.co.uk/news/rhondda-cynon-taff/fight-justice-flood-victims-continues-year
Following days of adverse weather conditions, including persistent torrential rain, rivers breached throughout the County Borough, flooding over 1,400 homes and businesses. Families were evacuated the scale of the devastation was unprecedented in many communities.
Roads were also impassable, despite valiant efforts by the Council to keep them open, and public transport was halted.  In response to the red weather warning issued in the early hours of Sunday, February 16, South Wales Police declared Storm Dennis as a major incident.
Throughout the night and in to the morning, the Council worked with the Emergency Services and partner agencies to tackle the enormity of the situation and ensure the safety of residents.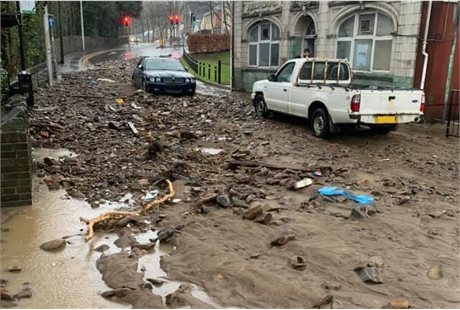 In response, the Council Leader established a Major Incident Recovery Board in the immediate aftermath to co-ordinate the Council's recovery plan following the devastating impact caused by Storm Dennis.
As soon as the weather allowed and floodwater receded, the Council began assessing the damage to its infrastructure, particularly in terms of roads, bridges, retaining walls, river walls, and flood defences.  This also included investigations on the extent of the landslip at Tylorstown – where the Council has since made good progress in carrying out the remediation works.
With the support of Welsh Government, millions of pounds of funding was made available to help residents, businesses and the Local Authority to begin the process of carrying out the substantial repairs, which continue to this day – one year on.
Councillor Andrew Morgan, Leader of Rhondda Cynon Taf Council, said: "Today marks one year to the calendar date since Storm Dennis caused unprecedented damage and destruction to communities across the length and breadth of Rhondda Cynon Taf, in what was a one-in-290-year event.

"The exceptional nature of Storm Dennis saw some areas of our County record almost 75% of a month's worth of rainfall in a 24-hour period, whilst the peak flow of the River Taff passing through Pontypridd could have filled an Olympic-sized swimming pool every three seconds.

"Following significant preparations in the days before the event, the Council also carried out a huge response on the night to ensure the safety of residents and provide support to those who had suffered from internal flooding. 

"This response also continued immediately after the event and over the proceeding days, weeks and months, through the provision of financial support – including the Community Flood Recovery Grant Hardship Payments, a grant for renovating property, and a School Uniform Grant.  This support also extended to the provision of a food package for all affected families and a host of other measures which were announced by the Major Incident Recovery Board.

"In addition to the properties and businesses flooded, the Council's infrastructure also sustained substantial damage at a cost of tens of millions of pounds, yet I am pleased by the progress that continues to be made in repairing and improving our culverts, river walls and other structures. The size and scale of the event, added to the further complications caused by the COVID-19 global pandemic, mean that this work will likely be ongoing for some time into the future.

"Having experienced a number of weather events over the last twelve months, including some throughout the summer months, it is clear that the effects of climate change are already taking hold, and the Council has already introduced measures to respond and enhance our preparations going forward, in close collaboration with partner organisations.

"The Council will continue to invest in both repairs from Storm Dennis and upgrading flood protection infrastructure. This remains one of the Council's top priorities and, week on week, we are seeing more and more flood schemes completed."