In Remembrance Anthology Showcases Local Writers
Poignant short stories and poems from local writers are featured in a brand-new book called In Remembrance. 
The publication is the result of a creative writing competition, run by Rhondda Cynon Taf Council's Library Service earlier this year, in which the public were invited to submit their original short works, based on the Act of Remembrance. 
This year marks the centenary of the signing of the Treaty of Versailles, which formally ended the First World War. It also marks the 80th anniversary of the start of the Second World War. Millions of people died during both world wars.
Hundreds of entries were submitted, each one no longer than 2,000 words, and 40 works were selected for publication.
"The Council's Library Service has been producing an anthology of the writing of local authors for more than a decade, covering many genres from mysteries, thrillers, stories of suspense, humour and personal reflection.

"Each of these anthologies celebrates the rich talent throughout Rhondda Cynon Taf and this year the theme has been In Remembrance.

"I would like to thank all of the contributors, not just in the latest anthology, but also all previous editions. Without the passion and talent of our local writers, we would not be able to produce such a rich and diverse collection of writings each year.

"I would also like to thank our dedicated library staff, who take the time to read every entry before deciding which pieces to include. We hope readers find the poems and stories included both entertaining and thought provoking."
Entries include works from Yvonne Rugby Hughes, Sheila Lewis, Olivia Rya Jones, Kevin Ashman, Jane Taylor, Carole Leyshon, Brenda Evans, Bourke Le Carpentier, Julie Coar and many more.
The In Remembrance anthology is on sale at all Rhondda Cynon Taf libraries, priced at £5.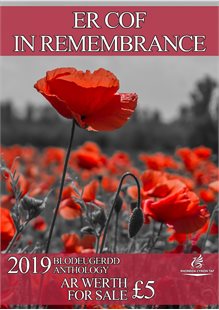 Posted on Wednesday 31st July 2019