RCT Food Distribution Centre
Hundreds of Council workers have been redeployed into other service areas during the Coronavirus national emergency, assisting frontline key workers in providing a valuable service to the most vulnerable in our communities who need it the most.
Among them is Jodie Davies, 24, of Aberaman, who is more used to putting gym users through their paces at Sobell Leisure Centre in Aberdare. But these days, the fitness suite assistant is currently packing food parcels at the Council's Food Distribution Centre.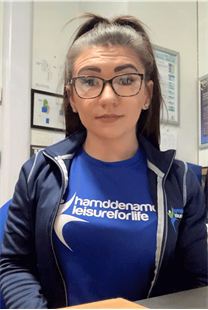 It has become a job that Jodie loves, especially speaking to all those people who are getting the vital food supplies during these unprecedented and difficult times.
Sobell Leisure Centre, at the Ynys in Aberdare, has been transformed into the Council's Food Distribution Centre during the national emergency. A total of 118 food parcels have already been delivered to residents on the NHS shielding list. A further 29 emergency food parcels have also been delivered to vulnerable residents and 40 more have been delivered to RCT residents living in supported accommodation.
Jodie said: "I have worked for the Council for five years, and I never dreamt that I would be packing food parcels for the most vulnerable people living in our County Borough.
"It is such a rewarding job to be providing some assistance to these people at such a difficult time for them. When I speak to them on the telephone, checking on their dietary requirements, they are always so grateful that there are people out there offering them assistance and support.
"I help prepare and pack up the food parcels, unload food supplies when they come in to us and ring those requesting deliveries. I also make sure they are able to pick up their parcel from floor level when we drop it off, otherwise we make alternative arrangements for them.
"I love the fact that during these uncertain times in which we are all living, I am helping to make a small difference. Normally working for the Leisure Service area of the Council, customer satisfaction has always been so important to me and all of my Leisure colleagues.
"It is so nice to hear lovely comments and such gratitude from those we are continuing to help."
Since the start of the COVID-19 outbreak, more than 2,700 people have contacted the Council requesting support and assistance with such things as shopping, collecting medication, loneliness and dog walking.
 "The Council's Food Distribution Centre at Sobell Leisure Centre is providing a valuable service to communities across our County Borough, delivering food parcels to our most vulnerable residents.

"There are many individuals in Rhondda Cynon Taf who need assistance at this unprecedented time, and the Council is doing all it can to help and support those who need it the most.  Our Food Distribution Centre continues to be a hive of activity each day, with staff and the voluntary sector working together to provide such an invaluable service."
The main sports hall at Sobell Leisure Centre, which is usually used for various sporting activities, has been transformed for a new use during the COVID-19 situation. Specialist protective flooring has been laid and a vast shelving layout installed.
Thousands of items of food are now stocked on the shelves and are being delivered daily to those in need.
The Council's Food Distribution Centre at Sobell Leisure Centre is NOT open to the public. The premises are used by Council staff, its partners and volunteers, all adhering to the social distancing guidelines to prepare food hampers, which are then distributed across the Rhondda Cynon Taf network.
Posted on Thursday 7th May 2020