RCT Council Christmas and New Year 2020/21 opening hours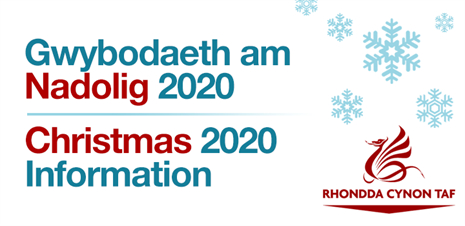 The Council, including the customer contact centre, will be CLOSED from 4pm on Wednesday, December 23, until January 4, 2021.
This page details the Council's specific arrangements for this Christmas shutdown period
 – applying to ALL major services aside from out-of-hours emergencies and limited vital services.  Please note, COVID-19 Alert Level 4 restrictions also came into force at midnight on Saturday, December 19, which will have an impact on some Council services – particularly how specific services will resume when the Council reopens on January 4. 
All you need to know about the Level 4 restrictions is included here
.You can still access a wide 
range of online services
 during the Christmas shutdown period, however residents are reminded that their request may not be processed until Monday, January 4, 2021.
Schools latest - Information and advice
Bins and Recycling Christmas Collection day changes
  Posted on Thursday 24th December 2020