Praise For The Diana Award Recipients
The two Rhondda Cynon Taf recipients of The Diana Award 2020 have been inundated with messages of goodwill and support from family members, politicians, teachers and celebrities.Students Alysa Neads and Declan Andrews-James both received The Diana Award 2020 in recognition of their work in their communities. They were among just eight inspirational children and teenagers from across Wales, and only 184 recipients across 35 countries worldwide to be presented with the highest accolade a young person can achieve for social action or humanitarian efforts.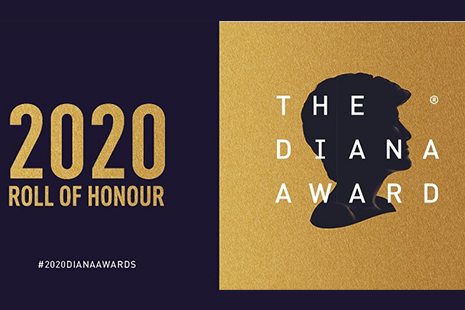 The Diana Award is the only award founded in memory of Princess Diana and has the full support of her two sons.Cllr Joy Rosser, Rhondda Cynon Taf Council Cabinet Member for Education and Inclusion Services, said:
"I would like to congratulate both Alysa and Declan on being honoured at The Diana Awards 2020 in recognition of the wonderful work they do, both in their communities and within their school environments.Alysa and Declan have both received The Diana Award 2020 in recognition of her social action and humanitarian work and Declan for his work with the charity's anti-bullying programme.All of our young people have voices that deserve to be heard. Young people have the opportunity to help us all change the world and The Diana Awards allows our young people to have their say at the highest level."
During the virtual ceremony, a pre-recorded video of Alysa, the youngest recipient in Wales, was shown, and following the event Alysa was shown many messages of congratulations from politicians, friends and TV and radio personalities such as Carol Vorderman, Wynne Evans, Dr Rhys Jones and Jagger and Woody.Samantha Evans, Mountain Ash Comprehensive School headteacher, said: "I am absolutely delighted on behalf of all of the staff and governors at our school and send our fondest congratulations to Alysa."Kirsty Williams MS, Wales' Minister for Education, said: "This is such a wonderful achievement and I would like to congratulate you on your success - well done Alysa."Alysa won the Diana Award for completing the social action @FirstGiveUK programme to an exceptional standard during her Year 9 Religious Studies lessons. She led a team of three peers in putting on 12 charitable events in the local community, undertaking 97 hours of social action, raising an amazing £2,058 in just eight weeks. Her team also went on to win the £1,000 First Give grant in the school competition final and her chosen charity - @LeeGardensPool received a total of £3,058!The story of her teams' efforts, was featured as a model of UK good practice, in the recently published 'Big Education: Schools in their Communities' academic journal. Alysa and her team have also been invited to give a presentation on their remarkable engagement with the local community to European academics at the York University International Conference for Education and Citizenship.Alysa now becomes part of the 'Diana Award Family' and will undertake their mentoring programme. Earl Spencer has extended her family an invitation to visit Althorp Estate, the childhood home of Princess Diana.Declan Andrews-Jones, a Year 11 student at Hawthorn High School, was "keen to make a difference" from a young age and approached his primary school headteacher at the age of 10 to start an anti-bullying programme. Impressed by his enthusiasm and passion, the school encouraged Declan to produce assemblies and presentations for younger children. As he progressed to High School, supported by his Head of Year Kelley Phillipart, he undertook training with Welsh charity Bullies Out to become a Youth Ambassador. Hawthorn High School now offers every student access to The Pod, described by Declan as "a safe space, a sanctuary with no judgement." Declan has undertaken further training with Bullies Out to become a Peer Mentor and has also arranged training for fellow students to allow The Pod to run smoothly in order to give all students the opportunity to speak with an anti-bullying trained member of the team whenever they need it.Declan, who is also a member of the School Council and Eco Council, is also a Pupil Governor and has spent the lockdown period home-schooling his younger brother. He is keen to return to school in September to continue delivering training to Year 5/6 children at Hawthorn Primary School and has created a scheme of work that can also be accessed via Google Classroom.Declan, who himself has ambitions to become a teacher one day, going on to become a Headteacher, was nominated for The Diana Award 2020 by his Hawthorn Primary School headteacher Lucy Noble, in collaboration with Bullies Out and Hawthorn High School acting headteacher Claire Crockett.Lucy Noble, Hawthorn Primary School headteacher, said: "Declan has been an incredible student since the very start of his school journey. His passion for what he believes in, and the effort he puts in, truly pays dividends. We are so proud of all he has achieved - congratulations Declan." Claire Crockett, Hawthorn High School acting headteacher, said: "We are all so proud of Declan. He has always been an incredible role model at school and it is wonderful to see him gain international recognition like this. We cannot wait to see what the future holds for Declan."Declan now joins the prestigious Diana Award Roll of Honour alongside fellow Hawthorn High School student and 2019 winner, Oliver Hopkins. Declan and Alysa are now both eligible for a Diana Legacy Award in 2021.