Please Clean Up After Your Dog!
Dog owners in Rhondda Cynon Taf are being reminded to act responsibly and clean up after their dogs. 
The Council has received a number of complaints around dog fouling in its streets, trails and sports pitches, which is not only unsightly but could lead to major health consequences at a time when NHS resources are already stretched.
The majority of dog owners across the County Borough are responsible, but those that are not, are leaving their mess behind them for others to step in - or worse - whilst they are out for the daily exercise.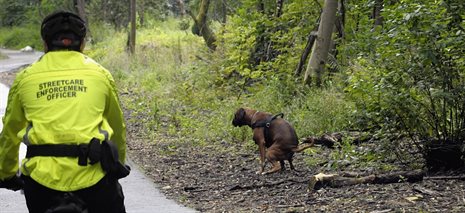 Dog owners are also reminded that dogs are not permitted on sports fields on or off a lead. Many of these areas are now being used by people to carry out their daily outdoor exercises on.
The Council's dedicated Streetcare team are still patrolling areas and will issue enforcement notices where necessary – but we are calling out to residents to help where they can by simply cleaning up after their dogs - just Bag IT and Bin IT!
The Council has also received reports that a small minority of people are dropping/leaving litter and we are asking residents to love where they live and ensure that our open spaces remain safe and enjoyable for everyone. If you are caught littering you could face a £100 Fixed Penalty Notice.
The Council is also receiving reports of dog owners leaving their 'doggy bags' hooked on to bins, making them appear to be full, as owners do not want to touch the dog waste bin handles – where this is the case we ask that where possible, you take the 'doggy bags' home and dispose of them in your own black bag/wheelie bin waste.  Remember to wash your hands after doing so.
But where are the enforcement officers now?