Mountain Ash Cross Valley Link Update
Rhondda Cynon Taf County Borough Council Policy NSA 20 – Major Road Schemes
In addition to those schemes identified in Policy CS 8 land will be safeguarded and provision made for the development of the strategic highway network in the Northern Strategy Area, including:-1. Mountain Ash Southern Cross Valley Link;2. Upper Rhondda Fach Relief Road;3. 
Mountain Ash Northern Cross Valley Link.
The question is when are the Welsh Government going to spend on  
Mountain Ash Northern Cross Valley Link?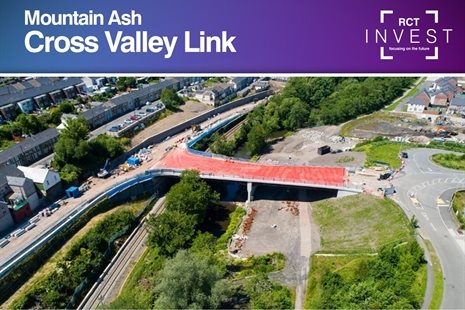 Our contractor for the Mountain Ash Cross Valley Link has provided the Council with a progress update on the ongoing summer holiday work, utilising the necessary closure of Penrhiwceiber Road.This element of the scheme looks to deliver significant improvements at Glyngwyn Street while allowing Miskin Road to reopen to two-way traffic for the first time – both major landmarks for the wider scheme.While some works have proven to be more challenging than anticipated, good progress has generally been made over the last three weeks.In addition to the main closure, our contractor will need to close the Miskin Rd / Bailey Street junction for a few hours to lay the carriageway surface course, the work is planned for Sunday morning 23rd August in order to minimise any effect of the works. The remaining carriageway surfacing and road markings are programmed for w/c 24th August weather dependant.All scheduled works for the summer holiday are still on course for completion by the end of August as planned.We had hoped Penrhiwceiber Road and Miskin Road would fully-reopen on August 24, but the closures are now being extended for up to a week. However, it is likely that both roads will be opened following the bank holiday weekendA further update will follow in due course.