Memorial bench for father and son unveiled at Royal Glamorgan Hospital
A beautiful bench created in memory of a father and his baby son has been unveiled in the grounds of the Royal Glamorgan Hospital, outside the department where the baby passed away.   Little George Burke was one year, one week and one day old when he tragically died at the hospital's A&E following a seizure in 2012. Just five days later, his dad, Paul, took his own life. They have now been commemorated with the installation of bespoke eco bench, designed to provide a quiet space outside A&E for patients, relatives and staff.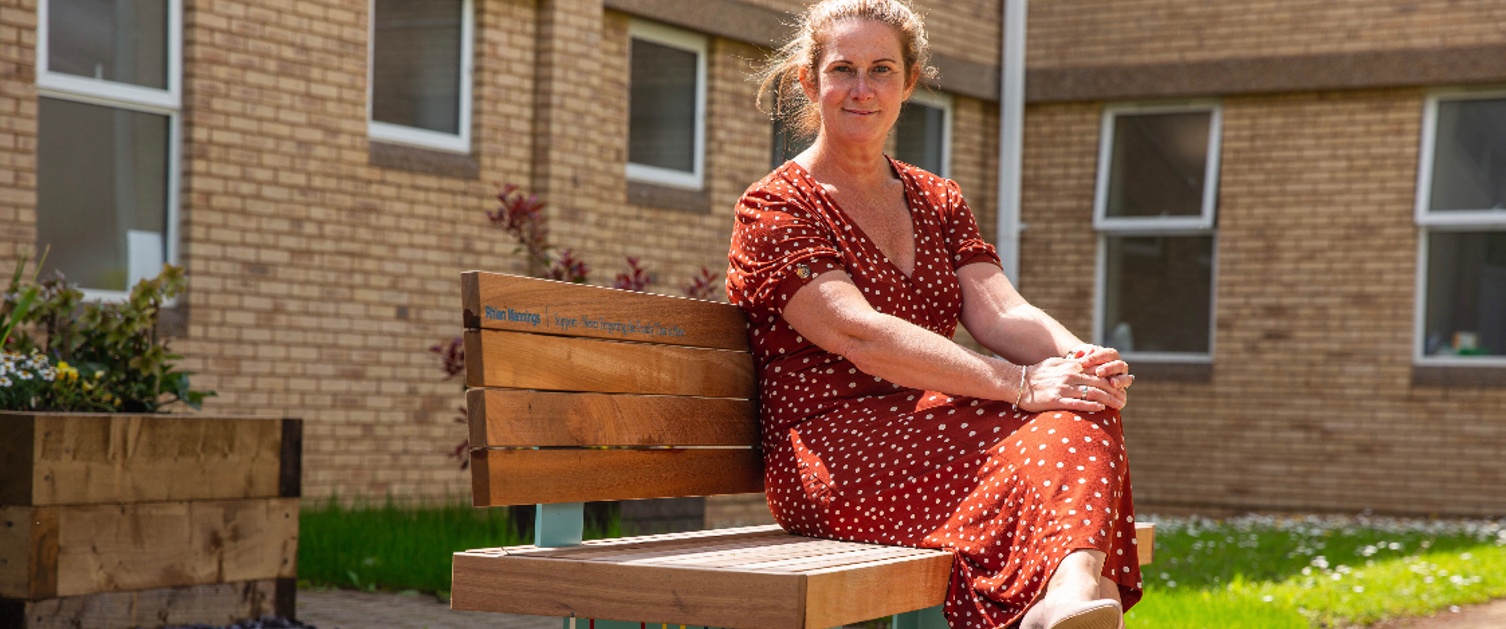 The bench, unveiled by Paul's widow and George's mum Rhian Mannings MBE, is one of 12 National Lottery-funded benches created by TV designer Jay Blades and installed across the UK. One of only two in Wales, it's engraved with Rhian's name and the wording "Support - never forgetting the family that is here", as well as a Braille plaque and a QR code for visitors to find out more.   Following Paul and George's death, Rhian, who is mum to two other children and has since remarried, has gone to help hundreds of other bereaved families with her charity 
2 Wish Upon a Star
.   The Llantrisant-based charity offers advice, support and counselling to those affected by the sudden and traumatic death of a child or young adult under 25, as well as working with emergency services and A&E departments to provide staff training and ensure bereavement suites are available.   2 Wish Upon a Star – which has as its logo an elephant, to tackle the 'elephant in the room' of sudden death and also because 'elephants never forget' – also supports Organ Donation Wales and families involved with organ donation.  Rhian said: "I'm delighted that the National Lottery chose our story for one of these beautiful benches. It was important to me that it was installed outside A&E, the place where George passed away, and I hope it provides comfort and breathing space for other families in difficult circumstances.  "It looks wonderful in the garden space that staff have created, and I would like to thank everyone at the Royal Glamorgan who has worked so hard to make this happen, especially during the pandemic."  Cwm Taf Morgannwg University Health Board Operational Estates Manager Mark Furmage said: "As a Health Board and a department, this is something we wanted to do for Rhian and her family and make the place special for them.   "This has involved several departments working together; it really has been a team effort. In particular, gardener Adam Johns has worked incredibly hard on the garden area around the bench, along with his dad David, who retired from the NHS after 40 years and has given up his own time to assist in the works."  Rhian's bench was revealed in a small, socially-distanced outdoor event attended by Rhian, her parents, A&E staff and TV presenter Gethin Jones.