Maerdy Mountain Road to close for storm repair work this summer
The Council has confirmed that the A4233 Maerdy Mountain Road will be subject to daytime road closures on Mondays to Fridays throughout the school summer holiday, enabling necessary work to rectify storm damage.The mountain route, between Monk Street in Aberdare and Station Road in Maerdy, was damaged by Storm Dennis. The Council carried out works under a road closure during the 'firebreak' lockdown at the end of October 2020, to carry out significant drainage work as a result of a landslip – scheduled when 'stay at home' restrictions were in place in order to minimise disruption.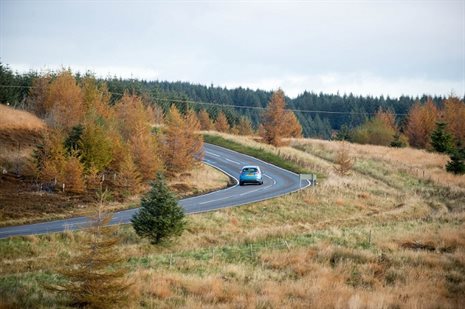 This summer, further physical works will take place on the road to mitigate storm damage and to increase resilience to future storm events. The nature of these works and the physical characteristics of the mountain route require the road to be closed in both directions, so the work can be carried out safely.The road will close between 8am and 6pm on Mondays to Fridays from Monday, July 26, to Wednesday, September 1. This is scheduled for the school summer holiday to minimise disruption. Please note, it would not be possible to make safe and sufficient progress if the work was carried out at night.As a result of the closure, the Stagecoach 172 service (Aberdare to Bridgend/Porthcawl) will be unable to serve its normal route on Mondays to Fridays. The Council has arranged for a shuttle bus service to operate for the duration of the closure, to maintain access to public transport for all residents.Additional resources will be allocated to the 172 service, so it operates from Aberdare Bus Station non-stop in both directions to Tonypandy Bus Station, via Pontypridd. It will meet the shuttle bus in Tonypandy, which will operate to and from Maerdy. 
The shuttle bus timetable can be found here.
All journeys from Aberdare will start earlier and journey times will be increased – but ticketing arrangements are in place to ensure customers pay the normal fares. Please call Traveline Cymru (0800 464 000) for timetable information.The Council remains committed to seeking funding for and rectifying damage to infrastructure across the County Borough, caused by the unprecedented weather of Storm Dennis. Thanks to residents and road users for their cooperation during the upcoming closure to carry out important repair work.The Council will keep residents up-to-date with the progress made throughout the work, and confirm arrangements for re-opening the road in due course.Posted on Monday 12th July 2021