Improvements at A4059 Asda Roundabout again council taxpayer forking out again
The Council will start a significant scheme to improve traffic flow on the A4059 southbound approach to Asda Roundabout in the Cynon Valley. Most of the work will be undertaken at night, to extend and widen the approach lanes.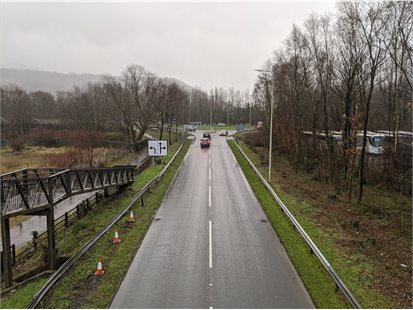 The works, starting during mid-January 2020, will extend the two current approach lanes to a length of 60m. Following the scheme, the left-hand lane will be used by motorists turning left towards Ffordd Tirwaun (Asda) as well as straight ahead towards Cwmbach – which is a change to the current setup. The right-turn lane will be dedicated for motorists turning right to Abercwmboi.The work will include installation of a retaining wall within the grass verge, and increasing the width of the highway to accommodate the lane extension. A new vehicle barrier will be installed along the grass verges of the A4059, along with drainage works, earthworks and relevant signage.The Council understands that the A4059 is a traffic-sensitive route on the strategic highway network. Therefore, to minimise disruption as much as possible, the majority of the work will be carried out at night – with a temporary 30mph speed limit put in place for the duration of the scheme.Overnight four-way traffic lights will be required due to the close proximity of the works to the roundabout. The public footpath next to the work site will be closed at certain times between the roundabout and the pedestrian footbridge, to ensure safety. A suitable pedestrian diversion route will be signposted.
Councillor Andrew Morgan, Leader of Rhondda Cynon Taf Council and Cabinet Member with responsibility for Highways, said: "The Council will undertake this significant scheme to help improve traffic flow on the A4059 in the Cynon Valley, thanks to #RCTinvest funding in 2019/20. It follows work in recent years to improve Cwmbach Roundabout, and add new dedicated turn lanes at Ynys Roundabout, the petrol station in Cwmbach and at Asda Roundabout's northbound approach – as part of wider corridor improvements."The upcoming scheme will improve southbound traffic flow approaching Asda Roundabout, by extending and widening the two-lane layout. This is very similar to the previous scheme at the Ynys Roundabout that has worked very well. The wider scheme will include the installation of a retaining wall, drainage improvements and final resurfacing at the roundabout."This scheme is intended to have a long-term improvement to traffic flow on this section of the busy A4059 commuter route, which is the arterial route through the Cynon Valley. The significant works to achieve this will cause some unavoidable disruption – but the majority of work and its associated four-way traffic lights at Asda Roundabout will take place at night."The Council will work closely with its contractor to ensure the scheme is carried out as quickly and efficiently as possible. I'd like to thank local residents and regular users of the A4059 for their cooperation, as the Council delivers these long-term improvements for the benefit of the local community."
Towards the end of the project, the Council's contractor will require a road closure over three nights, to complete the final resurfacing works and road markings to the north-western arm of the roundabout.Posted on Tuesday 7th January 2020