Gwalia Healthcare a Treforest business donates hand sanitiser to voluntary groups
Treforest-based business Gwalia Healthcare has kindly donated 5,600 bottles of hand sanitiser for the Council to distribute to more than 60 voluntary-run organisations across Rhondda Cynon Taf.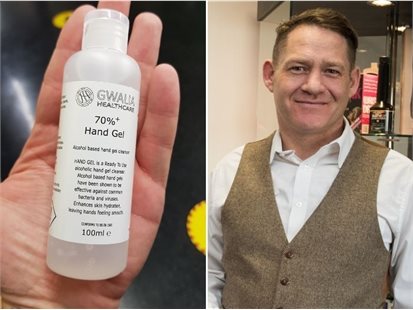 The Treforest Industrial Estate company specialises in manufacturing medical devices and pharmaceutical packaging, but began producing hand sanitiser in response to the initial lockdown period of the Coronavirus pandemic in March 2020. Using existing resources to make the bottles and sourcing the gel and alcohol from a 10-mile radius, Gwalia produced an initial supply of 20,000 bottles for frontline staff, at a time when there was a significant shortage.This came a matter of weeks after the company's manufacturing operation was brought to a standstill overnight, due to severe flooding in Storm Dennis. However, Gwalia has now increased its full time employment by 50% since the start of the pandemic, and continues to manufacture a full range of alcohol-based and non-alcohol sanitising products.Meanwhile, voluntary-run organisations across the County Borough have recently been putting measures in place to enable them to safely reopen, in strict adherence to the latest guidance for social distancing and hand hygiene.In order to help these groups, Gwalia's owner and director Rod Parker approached the Council with an offer for the company to donate 5,600 bottles of hand sanitiser. The Council then collated a list of some organisations within Rhondda Cynon Taf communities which might benefit from the donation.In September 2020, Gwalia's donation of 200 boxes of 28 bottles (100ml) was received by the Council – and more than 60 organisations were invited to collect two boxes each. The Council has delivered the donations to those unable to collect them, while a small number of the organisations are yet to reopen. Their boxes are being kept by the Council until they can collect them.Two boxes have also been sent to each of the Council-run Leisure Centres, which are distributing them among the groups and clubs using their facilities.
Councillor Robert Bevan, Rhondda Cynon Taf Council's Cabinet Member for Enterprise, Development and Housing, said: "This year has presented an incredibly-difficult challenge for organisations like businesses and voluntary groups, who have had to deal with the terrible flooding in Storm Dennis and the Coronavirus pandemic which has changed huge aspects of our society."Gwalia Healthcare was one of those businesses affected by both emergency situations, having been halted by Storm Dennis – and having to convert to a 24/7 operation in the following weeks due its compromised manufacturing capabilities. Despite this huge challenge, the company was able to convert its manufacturing to produce hand sanitiser for those working on the frontline."Six months on, the company continue to do invaluable work, and has approached the Council with a considerable donation of hand sanitiser to help voluntary groups who are getting back on their feet following the Coronavirus pandemic. I'd like to thank the company's owner Rod Parker and his team for this generous donation, which will make a big difference to these local groups. "The Council has distributed 56 bottles each to a range of organisations – from local sports clubs to community groups and venues, food banks, Scouts groups, community associations, chapels and churches, village halls and museums. This is another example of Rhondda Cynon Taf communities coming together and looking out for one another in our collective response to the pandemic."
Posted on Tuesday 29th September 2020