Demolition and reconstruction of wall at Abercwmboi Rugby Club
The Council will begin a scheme to replace the large wall at Abercwmboi Rugby Club, requiring temporary traffic lights at Cardiff Road – scheduled over the upcoming school half term break to minimise disruption.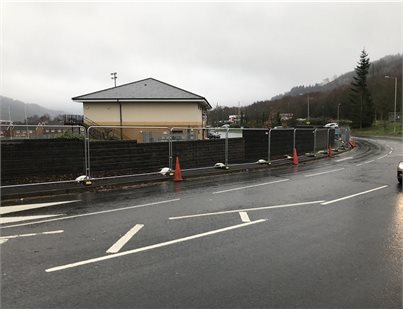 The work is essential to demolish and rebuild the wall, which has collapsed in sections and has caused the necessary closure of the footway adjacent to it.Demolition of the wall, along with the installation of a temporary barrier, will start on Monday, October 28,requiring three-way traffic lights which will be removed before Monday, November 4. The temporary lights will be manually controlled during peak hours, to ensure they are as efficient as possible.The process of reconstructing the parapet wall will then follow straight on – scheduled for completion in January 2020. These works will be undertaken within the rugby club grounds, and won't require traffic management at Cardiff Road. The road's width will be narrowed, but two-way traffic will be retained.Once reconstruction of the wall is complete, the footway adjacent to the rugby club wall at Cardiff Road will be able to reopen.
Councillor Andrew Morgan, Leader of Rhondda Cynon Taf Council and Cabinet Member with responsibility for Highways, said: "The Council is responsible for maintaining, repairing and ultimately future-proofing 1,500 structures across the County Borough – ranging from bridges to culverts and retaining walls, which are all essential in supporting our transport network."Significant funding continues to be provided for their maintenance through #RCTinvest and the £25.9m Capital Programme for Highways and Transportation schemes in 2019/20. Significant recent schemes have included repairing almost 1,000 metres of retaining wall in Hopkinstown, and advanced works to enable the St Alban's Bridge replacement in Blaenrhondda next year."The upcoming scheme to replace the large wall at Abercwmboi Rugby Club will ensure the structure is safe for the future, and it will also enable the nearby footway to reopen. The wall demolition requires temporary traffic lights at Cardiff Road during half term, but the rest of the scheme will be contained within the rugby club's grounds and should not impact upon local commuters."
Further traffic management will be required to remove the temporary barrier towards the end of this scheme. This is anticipated to last for one day, and details about this will be communicated by the Council in due course. Posted on Friday 25th October 2019