Culvert system upgrades to get underway in Fernhill
The Council will begin an important scheme to upgrade two culvert inlets in Fernhill, to reduce the risk of flooding during periods of heavy rainfall.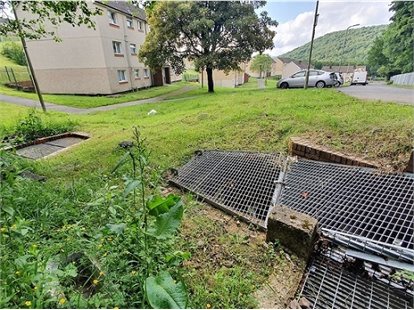 The two culvert inlets are located on land near numbers 475-480 on the Fernhill housing estate where the two networks converge. The work will upgrade the ordinary watercourse culvert inlets and their associated debris screens, in order to maximise the system's efficiency. Additional work will be designed to redirect any overland flows of rainwater away from residential properties and back into the downstream ordinary watercourse culvert.The Council has appointed Hammonds Ltd as the contractor to carry out this work, which is expected to last for approximately four weeks in total.There is anticipated to be minimal overall disruption to the local community during the work. Some footways may be brought out of use, but access for pedestrians will be maintained at all times. The site compound will be located at the end of the residential parking area. No highway disruption is expected.
Councillor Andrew Morgan, Leader of Rhondda Cynon Taf Council and Cabinet Member with responsibility for Highways and Transportation, said: "This scheme in Fernhill is the latest to be brought forward as part of a huge ongoing effort across the County Borough since Storm Dennis – to assess the damage sustained in a number of communities, to carry out repairs to infrastructure and to prepare for future severe weather events."More than 1,000 reports of flooding during Storm Dennis have been investigated, along with around 500 others in more recent storm events. Around 30km of watercourse assets have been inspected – the majority of which were underground – and more than 1,000 tonnes of debris removed."A number of targeted flood alleviation schemes are either underway or being planned in local communities. Works at Plantation Road in Abercynon and Bryn Ifor in Mountain Ash were completed recently, while major culvert works are progressing well at Park Lane, Trecynon. The upcoming work in Fernhill is starting on the same day as a major scheme at Pentre Road in Pentre."Residents in Fernhill are unlikely to face significant disruption as the culvert improvements are delivered over the next month or so. The Council will work closely with its contractor to deliver the scheme quickly and efficiently."
Posted on Friday 18th September 2020