Council starts to issue Transport for Wales concessionary travel card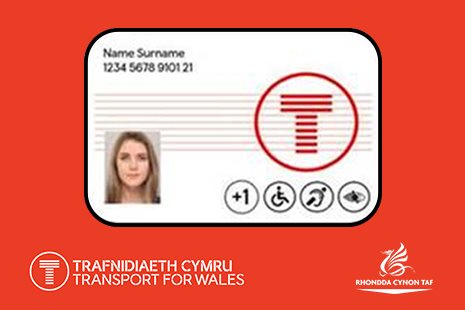 The Council has started to issue a 'new-style' concessionary travel card for use on buses across Wales to new applicants aged 60 or over, as well as those with a disability.
Around 60,000 people in Rhondda Cynon Taf currently benefit from this offer.
Transport for Wales, on behalf of Welsh Government, is working with all 22 local authorities to issue around 750,000 'new-style' travel cards by December 2019, to replace all current concessionary travel cards.
'New-style' cards are currently being phased in across Wales. From Monday, July 22, 2019, Rhondda Cynon Taf Council started to issue the 'new-style' cards – to new applicants, to existing card-holders who have lost their pass or had it stolen, and for disabled renewals.
The roll out to existing card holders will start from early autumn. There is no need for concern, as both will be accepted on the buses until December 31, 2019.
A public information campaign will be launched in the autumn to make sure residents are aware of what they need to do to receive their 'new-style' card.
Roger Waters, Service Director Frontline Services, said: "The Council is now issuing the new Transport for Wales concessionary travel card for new applications and replacements.

"While residents might see other bus users with the new card, the existing Council-branded card will continue to be accepted. Transport for Wales and the Council will announce in the autumn how residents can renew their existing travel cards."
For more information about concessionary travel cards in Rhondda Cynon Taf – including eligibility, Frequently Asked Questions and how to apply – visit: https://www.rctcbc.gov.uk/EN/Resident/ParkingRoadsandTravel/Travel/BusPassesandConcessionaryTravelCards/OlderPersonsConcessionaryBusPass/60andOverConcessionaryTravelCard.aspx
Posted on Friday 2nd August 2019