Brother And Sister Become Mensa Members
Two learners from Rhondda Cynon Taf have been accepted into Mensa due to them having IQ higher than the projected scores of the late Albert Einstein and Sir Stephen Hawking.Jessica Casey, 13, of Aberdare, is delighted to have become a member of the elite society, of which her 15-year-old brother Harrison is already a member. Both are students at Aberdare Community School.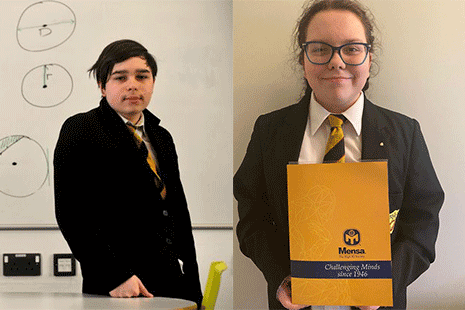 Jessica began reading at the age of one and was dividing numbers by the time she reached the age of three. She achieved 162 marks on her Mensa paper, the maximum possible, ranking her in the top one percent of the population.Jessica, a Year 8 student, said she did not practice before sitting the two-hour paper. Harrison also achieved 162 marks when he sat the paper at the age of 12, the same age his sister was when she sat hers.Albert Einstein and Sir Stephen Hawking never sat a Mensa test, but their estimated IQ score by the society is 160.
Councillor Joy Rosser, Rhondda Cynon Taf Council Cabinet Member For Education and Inclusion Services, said: "This is wonderful news and I send my congratulations to both Jessica and Harrison on their amazing academic success."We are proud of all our learners in Rhondda Cynon Taf and celebrate their achievements whenever we are able to do so. To join Mensa is one of those achievements and we wish both Jessica and Harrison well with their future studies and their future career paths."
Jessica, who has never missed a day at school, apart from when it was closed due to the global pandemic, said her favourite subjects are Art and English, but she also excels in every other subject.New Mensa member Jessica said: "I am quite a relaxed person and didn't need to revise for the Mensa test. It's pattern recognition, I just seem to remember things, so finding out I am actually in the one percent of the population was quite interesting."I was surprised but have come to expect it as a part of my life. It doesn't change who I am."Harrison was reading newspapers at the age of one and subtracting and dividing numbers aged three. His favourite subject at school is maths.Mensa member Harrison said: "It just comes naturally to me, but both my sister and myself are incredibly proud to be members of Mensa."Jessica and Harrison's parents Amy and Lee, a mechanical engineer, realised their children were academically gifted before they were school age as they both loved reading and calculating numbers before their third birthdays.A spokesperson for Mensa said: "Jessica's score of 162 is the highest that can be achieved on the Cattell III B test by someone under the age of 18 . For adults it is 161."This doesn't mean that it is impossible to be any brighter. The psychologists who devised the test believe that further differentiation between ability levels above 162 is not accurate enough to be meaningful."As 162 represents the top end of the top one per cent of the population, we would like to welcome Jessica to Mensa, where she joins a growing community of teenagers and younger members. We hope she makes the most of the opportunities membership provides to make new friends and learn new things."Mensa, the world's oldest high IQ society, was founded in Oxford in 1946 by two barristers. Its principle is that all members are equal regardless of age, gender, nationality, religion, race or politics. There is only one criterion for membership - a measured IQ in the top two per cent of the population.There are about 140,000 Mensa members worldwide and around 19,000 in the UK and Ireland. The youngest member is four and the oldest 102.Emma Harris, assistant head at Aberdare Community School, said: "We are all incredibly proud of both Jessica and Harrison, as we are all of our learners at the school, especially when they are deservedly recognised for their outstanding talents and ability."Posted on Friday 4th June 2021