Wales' Top Tang Soo Do Instructor Join World Elite
The International Tang Soo Do Federation's most senior instructor in Europe has been honoured with a rare 8th Dan grade.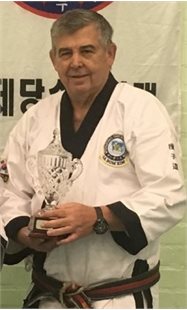 Wales' Master Wynford Williams, of Hawthorn, Rhondda Cynon Taf, teaches at his club in Llantrisant. He has been made the International Tang Soo Do Federation's only 8th Dan grade throughout the whole of Europe.  
Mayor of Rhondda Cynon Taf, Councillor Steve Powderhill, has welcomed the promotion, announced by International Tang Soo Do Federation and its president, Grandmaster Chun Sik Kim. 
Master Williams is now one of just five 8th Dan Masters in the International Tang Soo Do Federation throughout the world.  He is the' highest-ranking Tang Soo Do instructor in Wales. 
Master Wynford Williams said: "I feel fortunate to have been promoted to 8th Dan, a grade I could only have dreamt of when I took up Tang Soo Do over 40 years ago. 
"Fortunate because I met Grand Master Tong Mun Kim in a village hall in Tonyrefail  in 1977, my first instructor who took me to the rank of 3rd Dan in 1987, and later Grandmaster Chun Sik Kim, my current instructor, who has 
overseen my progression to 8th Dan. 
"These gentlemen changed my life and took me all over the world competing. Even at my level, we are focussed on continual self-improvement and progression.
"The journey so far has been made possible through practice and an eagerness to truly understand this ancient Korean art of Tang Soo Do. So many people have helped me with that, and I am so grateful to them all. 
"I get so much enjoyment and pride from teaching what I have been fortunate enough to learn, passing it on to others. Many of my students are now themselves teaching Tang Soo Do and ensuring that our blend of discipline, self defence, fitness and mutual respect is taken into new communities." 
Posted on Friday 18th January 2019