School Battery Recycling Competition winner announced!
Students across Rhondda Cynon Taf collected 1,766kgs of used batteries - more than the weight of 1 large family car or 56 small fridges!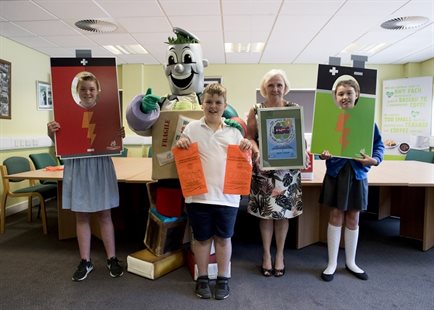 The Council, in partnership with Amgen Cymru and ERP Recycling, launched its Schools' Battery Recycling Competition in 2014, which aims at making it easier for pupils, staff and parents to recycle their batteries and prevent them from going to landfill.
The scheme, now in its fifth year saw 37 Primary schools from across the County Borough take part and has proved to be extremely popular, with pupils of all ages 'fully charged' with the task in hand – to collect as many used batteries as possible.
The schools collecting the most batteries win vouchers and the chance to meet the Council's very-own 'green' mascots Rhys Cycle.
Our Lady's RC Primary School charged ahead to collect the most used batteries, with Trerobart Primary School and Cwmaman Primary School coming second and third. The three schools won £250, £150, and £100 respectively in vouchers.
The awards were presented by Cllr Ann Crimmings, Cabinet Member for Environment, Leisure and Heritage Services.                                                                  
A council spoksperson said: "I am delighted that so many of our students took part in our Schools' Battery Recycling Competition. The number of batteries returned to us has been amazing.

"Each battery that has been recycled will be put to another use, further helping the environment.

"We all have an important part to play in making Rhondda Cynon Taf a cleaner and more environmentally-friendly place to live, to work and to play.

"Our recycling rates for the whole County Borough are extremely encouraging and we now have to build upon this to ensure we are not just recycling those substances which are easy to recycle - and not just recycling at home.

"We can also recycle at school as well as at work, which is why our Schools' Battery Recycling Competition is so important to us.

"Recycling should now be a vital part of all our lives, and it is pleasing to see  our younger residents getting involved. We all need to do our bit and show we love where we live and take pride in our area – together we can make a difference as these school pupils have shown."
The UK uses more than 620 million household batteries every year - and by recycling batteries, everyone is able to help their environment by combating waste and cutting costs in line with the country's ambition to recycle 70 per cent of its waste by 2025.
Depositing domestic batteries in landfill is harmful to the environment and to us. As the batteries break down they leak heavy metals and toxic chemicals into the land, causing soil contamination and water pollution.
Standard household batteries can be recycled at the kerbside in RCT using an orange recycling bag, which, once full, is sealed and placed in to the CLEAR recycling bag. Household batteries include; AAA and AA cells, C and D cells, rechargeable batteries and button batteries. Orange battery recycling bags can be ordered online at www.rctcbc.gov.uk/bags. 
Car batteries, mobile phone, laptop and power tool batteries can be recycled in one of the Councils Community Recycling Centres. Find your nearest by visiting www.rctcbc.gov.uk/CRC. 
For more information on recycling follow the Council on Twitter/facebook or visit www.rctcbc.gov.uk/recycling
Posted on Friday 5th July 2019