Road safety scheme in Penycoedcae during February half term
Maerdy Mountain Road also closed, February half term not the best planning or forward thinking to close both at the same time.
https://www.rctcbc.gov.uk/EN/Newsroom/PressReleases/2019/February/MaerdyMountainRoadclosureFebruaryhalfterm.aspx
The Council will deliver a road safety scheme in Penycoedcae to introduce a 20mph zone and traffic calming features. Works require a road closure during February half term, preventing direct access through the village.
The scheme will take place over two weeks from Monday, February 25 – however, the day-time road closure (9am to 3pm) is required for the first week only, up to and including Friday, March 1. This scheme is scheduled for the school half term in order to minimise disruption as much as possible.
The work will introduce a 20mph zone on Penycoedcae Road, starting south of its junction with Awelfryn and continuing north onto Tonyrefail Road. The 20mph zone will also extend onto Llantrisant Road, and will meet a short new 30mph zone leading to the existing 40mph zone in the direction of Pontypridd. Road humps and speed cushions will be introduced along these routes.
Click here to see a large version of the above map
From February 25 to March 1, a road closure is required within the sections of Penycoedcae Road, Tonyrefail Road and Llantrisant Road outlined on the map. This will prevent traffic travelling directly between Pontypridd and Beddau through Penycoedcae. The closure point itself will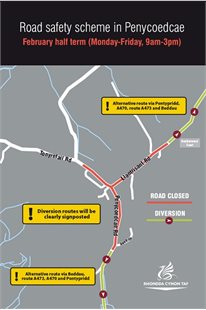 change as works progress, but there will be no through access from 9am to 3pm each day.
An alternative route for motorists, from the southern side of the closure, is via Penycoedcae Road, Gwaunmskin Road, Llantrisant Road (Beddau Halt) A473 Church Village Bypass, Tonteg Road, Upper Boat Roundabout, A470, Broadway, Sardis Road, Factory Lane and Llantrisant Road. Motorists travelling in the opposite direction should take this route in reverse order. Access will not be maintained for emergency services.
Access will be maintained for residents throughout the work, while access to local businesses will be maintained from the direction of Pontypridd. A shuttle bus service will be provided between the Queen's Head public house and Pontypridd at regular intervals. No service will be provided towards Beddau.
From March 4 to March 10, finishing works will be completed. No road closure will be required, with works being undertaken under traffic signals.
Letters have been sent to local residents informing them about the scheme and the nature of the work, while signage has been erected. For any queries throughout the scheme, please contact the Council via 01443 425001.
Posted on Friday 22nd February 2019