Recycling Competition Winner Announced
Winning schools collect the weight of 38 average school desks (38 x 2.5 stone) in cards to scoop top prizes in this year's Christmas Card Recycling Challenge.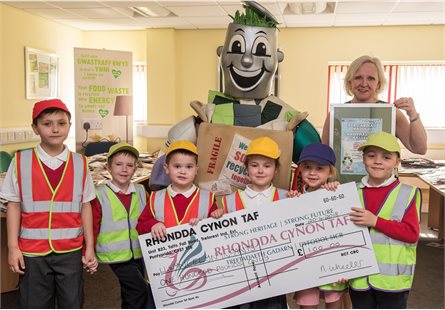 Ysgol Hen Felin has once again received a stamp of approval as they keep their crown and are announced as the winner of Rhondda Cynon Taf Council's School Christmas card recycling competition after collecting the weight of a staggering 66 stone in cards!
They were closely followed by Llwyncelyn Infants, who scooped second prize and Porth Infants who took third prize.
The challenge which was set in January, asked schools to collect as many cards as possible and bring them in to their schools to be collected. The total number of cards collected was then calculated in line with the number of pupils at the participating school to find the overall winner.
A total of 64 schools took part in the challenge which saw over 715 stones of Christmas cards collected – that's equivalent to the weight of 286 average school desks or over 4.5 tonnes!
The top three schools scooped cash prizes for their winning efforts with Ysgol Hen Felin receiving £300, Llwyncelyn Infants receiving £100 and Porth Infants receiving £50.
The three schools received their prizes in a special event which allowed them to see how much waste was collected by all 64 schools –The cards were stacked in to a purpose built Christmas card mountain, which showcases just how important recycling just one item can be. 
The importance of recycling is the reason behind the Council's latest "Choice is CLEAR- Everyone needs to recycle" campaign, which aims to increase the recycling rate across the County Borough to meet the Welsh Government target of 70% by 2024/25. The Council currently boasts a 64% recycling rate, which places the authority firmly in the top 10 in Wales, but we need to do more to hit the future rate of 70% and are targeting those who don't currently recycle. Those residents who continuously fail to recycle could face a fixed penalty notice of £100. There is no excuse not to recycle, with a free, unlimited, weekly dry, food waste and nappy kerbside collection service alongside 7 community recycling centres, which are open from 8am to 7.30pm, 7 days per week (March-October).
The campaign is currently counting down to 4th June, when the new rules come in to force reducing the amount of black bag waste that will be collected to 2 bags or 1 wheelie bin with the lid closed. The countdown highlights the benefits related to recycling in RCT, including the fact that over 5000 tonnes of paper/card was recycled in RCT last year. The social media countdown also includes helpful hints and tips on how you could possibly increase and improve upon your recycling at home.
Councillor Ann Crimmings, Cabinet Member for Environment and  Leisure, said:
"Congratulations must go to the pupils of all the 64 schools across Rhondda Cynon Taf that took part in the competition.
"Together they collected an unprecedented amount that has resulted in over 4.5 tonnes of waste being recycled and successfully diverted from landfill.
"The pupils have shown a real enthusiasm for recycling and understand why it is so important.
"Recycling should now be a vital part of all our lives, and it is great to see our younger residents getting involved. As the Council and RCT households countdown to the new changes that will come in to force from 4th June 'the Choice really is CLEAR - Everyone needs to recycle'.
"The introduction of the new rules will be important in helping us hit the Welsh Government's 2024/25 target of 70%.
"The new rules provide a clear choice – everyone needs to recycle to support a greener future for Rhondda Cynon Taf. We estimate that 75% of residents already recycle and that is why the new rules and awareness raising activity will target those who do not.
"Council officers will visit households not recycling to speak to residents, raise awareness and offer advice and, if required, issue warnings before a fine is considered as a last resort. We would much rather see more people recycling than issue fines."
For more information on recycling follow us on twitter/facebook or visit www.rctcbc.gov.uk/recycling.
Posted on Tuesday 8th May 2018