Pupils Discover World of Recycling
Caegarw Primary School pupils journeyed in to the world of recycling and waste this month at Visit Bryn Pica. 
The 30 lucky pupils went deep in to the world of recycling and discovered just how and why recycling is so important for the whole County Borough.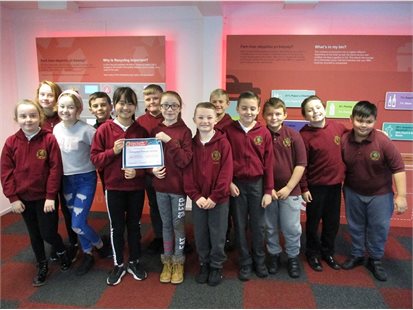 During this special visit the children took part in an interactive trip and discovered lots of recycling secrets and witnessed first-hand how waste can be used to create some amazing new items and how it is sorted in to waste types, right here in Rhondda Cynon Taf.
The NEW interactive Recycling and Education Centre – Alun Maddox Visitors Centre, which is based near Amgen Cymru and Bryn Pica Landfill site, was officially opened by Hannah Blythyn AM, the Welsh Government's Deputy Minister for Housing and Local Government in September.
The Centre boasts interactive videos, which showed the pupils how recycling is processed right here in the County Borough – they could also discover how a bottle is recycled, test their recycling knowledge by taking the interactive quiz, discover what's in their bins, jump in the interactive ocean, sort recycling along the mini material recovery facility (MRF) and lots more.  
The Centre which was fully refurbished and kitted out with the latest technology earlier this year, thanks to over £60,000 of Welsh Government Collaborative Change funding and additional Council investment, is open to local schools and community groups in Rhondda Cynon Taf five days a week.
 

"Recycling should now be a vital part of all our lives, especially our younger residents. The Alun Maddox Visitor Centre is helping to make learning about recycling and the environment fun and engaging and will hopefully set the foundations for future recycling generations and beyond. The Centre can also be used to inform community groups about the recycling process and answer any questions they may have. It's great to see that Caegarw Primary School enjoyed their visit to the centre.

"This Centre is a welcome addition to the services on offer to residents across the County Borough and it is hoped that it will help to increase recycling rates even further by educating young people about the need to recycle and look after our County Borough and beyond  - it's time to Stop. Think. Recycle!"
Book your school or community group trip, visit
More information on recycling in RCT or follow the Council on Facebook/Twitter.
Posted on Wednesday 4th December 2019