Pontypridd students win award in national engineering initiative
These sixth form students from Pontypridd High School have excelled in a national engineering initiative, in which their Council-sponsored project to identify road safety improvements in Cilfynydd has won an award.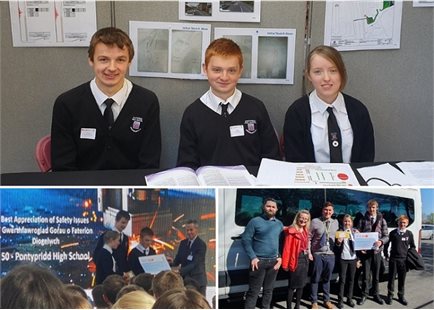 Pontypridd pupils Tom Penikett, Liam Hooper, Seren Hopkins, Isabelle Preston and Trudy Pounder took part in the EESW Project – organised by the Engineering Education Scheme Wales – alongside a number of other Year 12 pupils from across Wales. Each team was given a brief relating to an engineering challenge identified by their sponsors, and the five local students' task was to identify ways to improve road safety in Cilfynydd.
The team engaged with their school and the wider community to identify road safety concerns, and gather evidence in order to support their findings. Working closely with engineers from the Council's Transport Strategy team, the students identified opportunities to address the issues – while applying engineering principles, adhering to relevant legislation and encouraging Active Travel within the community.
The students produced a written report and three members of the team attended the EESW awards and presentation day, which was part of the Big Bang Fair South Wales at the Ministry of Defence St Athan, in the Vale of Glamorgan, during April 2019.
Alongside 66 other schools from across South Wales, the Pontypridd High School team gave two presentations and displayed their work to a panel of assessors. The Pontypridd students won the Best Appreciation of Safety Issues Award, receiving a cheque for £500 and certificates for taking part.
Councillor Andrew Morgan, Leader of Rhondda Cynon Taf Council and Cabinet Member with responsibility for Highways, said: "Congratulations to Tom, Liam, Seren, Isabelle and Trudy from Pontypridd High School, whose EESW Project about road safety in Cilfynydd was recognised and rewarded. The Council was very pleased to sponsor the team's research, and the students worked closely with Transport Officers to complete their project.

"Highlighting career opportunities in engineering for our young people is very important, and there are a number of recent examples by the Council. In February 2019, our Highways department hosted a day of activities for Ysgol Nantgwyn pupils, to showcase the opportunities for females in the industry. Meanwhile, our Mountain Ash Cross Valley Link contractor recently teamed up with the Institution of Civil Engineers – to conduct activity sessions in local primary schools, in which pupils helped build 15-metre long bridges indoors.

"The five sixth form students from Pontypridd High School were a credit to their school. The team put a lot of effort into their project, and their award is thoroughly deserved. Well done once again."
Posted on Wednesday 15th May 2019