The Penywaun Paraders World Champion Jazz Band
The Penywaun Paraders have been special guests of Rhondda Cynon Taf's Mayor after clinching the coveted world title.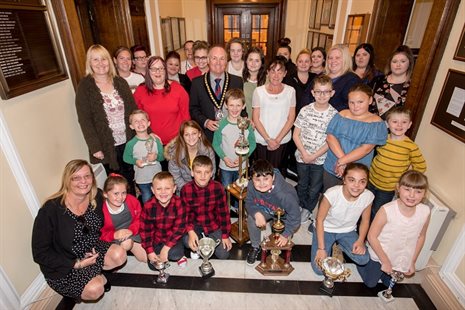 Started in 2014 and based on the Penywaun Estate in the Cynon Valley, Penywaun Paraders are a jazz band for all ages, made up of 70 members - the youngest member being aged five and the oldest being 55 years-old. 
At the 2018 Indoor Championships, Penywaun Paraders were crowned World Champions, beating off all other competitors. As a result of their resounding victory, they were invited along to the Mayor's Parlour. 
 "To have the World Champion jazz band based in our County Borough is such an amazing achievement and I was delighted to meet them all to congratulate them in person. 

"Jazz bands were once very popular in South Wales, with most communities having at least one in their midst. They were a great way for people to get together to enjoy music and marching. 

"Jazz bands were also in great demand at community events, with regular competitions taking place, with their costumes being just as impressive as the music." 
Would you like to join the Penywaun Paraders Jazz Band? Rehearsals take place at Penywaun Community centre each Monday and Thursday, from 5pm until 6.30pm. All are welcome.
Posted on Thursday 8th November 2018