No public convenience in Aberdare Library but Treorchy Library to house new public convenience
More than £110,000 will soon be invested in Treorchy to relocate and improve the existing public conveniences.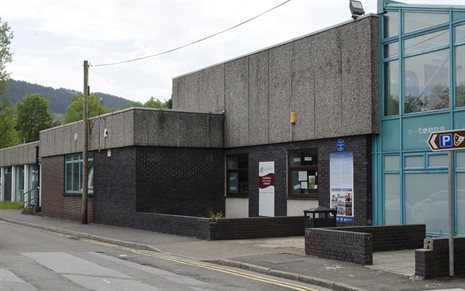 This latest scheme is one of seven public conveniences to undergo works in the County Borough and will be in addition to the total investment to more than £310,000 in less than two years.
The investment in Treorchy will see new male and female toilets moved to the library building opposite, and provide users with an improved facility which will include new baby changing facilities in male/female, disabled toilet, new bowls and seats, new wash basins, hand drier and vanity area, and new floors and rendered walls.
During the scheme, which is due to begin in April, residents are reassured that they won't be "caught short" as the existing public conveniences will remain open as usual. Once completed, access to the new facilities will be separate from access to the library.
The new public conveniences will be available from 9am to 5pm on Mondays and Saturdays, and 9am to 5.30pm from Tuesdays to Fridays. The public conveniences will be secured daily via an automatic locking system. However, the area will be regularly inspected by the Council's Streetcare team to ensure it is maintained appropriately.
Over the last few years, there has been an increase in anti-social behaviour and abuse of public conveniences and the Council urges residents to report any incidents so they can be dealt with immediately.
 "Thanks to this latest investment, local residents and visitors to Treorchy town centre will shortly benefit from a much-improved facility.

"Over the last two years the Council has invested in significant refurbishments of toilet facilities in Pontypridd, Porth, Ton Pentre, Aberdare, Penygraig, Treherbert and shortly Treorchy. This demonstrates the Council's continued commitment to invest where it matters most to our communities.  

"Over the last few years anti-social behaviour, and the abuse of our public conveniences, has been on the rise. I would urge residents to help the Council to look after these facilities, and to report any incidents so that they can be dealt with immediately.

"I'd like to thank residents, and visitors to the town centre, in advance, for their cooperation while the public convenience refurbishment works take place."
The Council currently provides a number of free public conveniences in various locations across the County Borough as well as Automatic Public Convenience.
For more information about the location of public toilets in Rhondda Cynon Taf, as well as access to disabled toilets, please visit https://www.rctcbc.gov.uk/EN/Resident/ParkingRoadsandTravel/Roadspavementsandpaths/Publictoilets.aspx.