Mountain Ash Cross Valley Link – successful weekend of works
The Council's contractors for the Mountain Ash Cross Valley Link made excellent progress on the weekend, lifting large beams into place over the river and railway line – despite the wet and windy weather.
The multi-million pound highways scheme will see a road bridge built from Cwm Cynon Industrial Estate to Miskin Road, providing a vital new link for traffic travelling between the A4059 and B4275. The project is a long term-aspiration for the Council and residents, and is due for completion in 2020.
The main construction phase of the scheme continues to advance, and to achieve a significant landmark – lifting the main bridge structure into place – an important weekend of work was arranged for September 28-29.
Possession of the railway track took place as planned from Friday night, and was handed back to Network Rail on schedule by Monday morning.
Six pairs of beams were lifted into place utilising a large crane, with the contractor monitoring the wind speeds over the weekend and utilising breaks in the conditions in order to make progress.
The three larger beams, weighing nearly 100 tonnes each, were lifted on Saturday and Sunday, and were in place by Sunday evening. The final three pairs of smaller beams were lifted late on Sunday, as wind speeds reduced. These were in place by 4am on Monday, in readiness for the railway line reopening.
Further work above the railway line will be carried out at night shortly, to minimise any further disruption. Due to the excellent progress made on the weekend, there is anticipated to be no further rail closure for the beam lifts.
Councillor Andrew Morgan, Leader of Rhondda Cynon Taf Council and Cabinet Member with responsibility for Highways, said: "I'm very pleased our contractors were able to make excellent progress on the weekend – despite the challenging weather conditions. High wind speeds were a particular issue for the beam lifts, with the contractor constantly monitoring the weather and making progress when it was possible and safe to do so.

"Local residents will be able to see the visible progress made on site, and I'd like to thank them for their continued cooperation as this important scheme continues. I'd also like to thank commuters for their patience this weekend."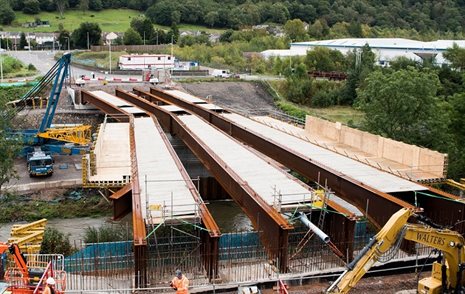 Posted on Monday 30th September 2019