Jason's Dream Becomes A Reality
Working at Vision Products has helped Jason Rowley grow in confidence, enabling him to live independently - in a home fitted with PVCu windows that have been manufactured at his workplace.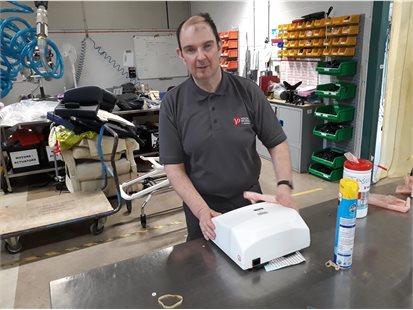 Jason, aged 49, of Talbot Green, never dreamed that when he started work as a production operative with the Council's award-winning Vision Products in 2012 that he would make so many new friends and would one day be able to live independently. 
Jason has a learning disability, and as a result struggled to find employment which offered the support and training that he required. 
But Vision Products, celebrating 25 years in business, has helped Jason to not only grow in confidence, but to fulfil his dream of living independently for the first time in his life. 
And talk about taking his work him, Jason now lives in a complex where Vision Products has not only manufactured the PVCu windows at his home, but also installed them. 
Jason's parents Terry and Yvonne say that working at Vision Products has helped their son achieve so much. "He absolutely loves his work, it has given him so much confidence. He has also made many friends along the way." 
Jason said: "Working here has given me a new lease of life. I have made loads of friends and I love coming into work every day. 
"I also realise that I am part of a big team, and we all provide such a valuable service to the community."
Run as a supported business as part of RCT Council, Vision Products provides meaningful employment and development opportunities for people with disabilities within the locality.
This is done by the provision of the PVCu manufacturing department, the Integrated Community Equipment Service, Mobility Shops and the Technology and Servicing Department.
Having relocated to Pontyclun 25 years ago, with the formation of Vision Products, the company has expanded greatly over the years. But its main aims, objectives and values remain the same after two-and-a-half decades. 
Over the last 25 years, Vision Products has diversified its service provision and is now a thriving business, with a customer base now extended to Local Authorities, Health Boards, and Housing Associations across Wales.
Working in the company's refurbishment department for the last 8 years, Jason refurbishes community equipment. During this time has become a valuable member of staff, a key team player and a dedicated professional producing high quality work.
Councillor Geraint Hopkins, Cabinet Member for Adult Community Services and Welsh Language, said: "Jason is a perfect example of someone who with the right support can progress in both their personal and professional life.

"We are all so proud of Jason's employment success and his own personal journey as a result of working at Vision Products.

"Jason has overcome significant barriers in terms of his learning disability to achieve so much in his life. He continues to develop and remains an important member of the Vision Products workforce.

"Everyone at Vision Products is so passionate about their jobs and the manufacturing of first-class products." 
Continuing to develop, Jason has recently completed his digital literacy qualification, along with other job-related training such as COSHH Training, manual handling and product specific training. 
Jason is an enthusiastic worker who enjoys learning new skills and is always keen to undertake job-related training. Outside of the workplace, he enjoys music and plays guitar. He also enjoys swimming, going to the gym and bowling. 
For Jason, Vision Products is more than just a job, it is a safe environment where he can learn, grow and develop. 
His commitment to training and development is second to none and has enabled him to become more outgoing and he has newfound confidence to start living life more independently - living on his own for the first time. 
This is a massive achievement for Jason and he continues to grow and develop both personally and professionally.
Posted on Wednesday 15th May 2019