Gas main diversions at Bridge Street Roundabout to enable future improvements
Wales and West Utilities will carry out gas main diversions at Bridge Street Roundabout in Pontypridd, to enable the Council to extend the existing bus lane next to Ynysangharad Park during Spring 2019.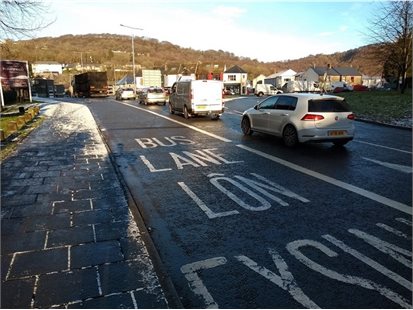 The scheme will extend the current bus lane onto the northbound slip road, where traffic approaches Bridge Street from the direction of Sainsbury's Roundabout. The scheme will create a third lane which will be dedicated for buses – by building into the grass verge adjacent to the park.
The scheme is funded by the Welsh Government and the Council's £23.6m Highways Capital Programme for 2018/19, through the Making Better Use Programme. The additional lane will improve traffic flow for buses at the busy junction at the A470 interchange in Pontypridd.
In order to accommodate the work, Wales and West Utilities will carry out gas main diversions from Monday, January 28, lasting around three weeks.
This requires a three-week closure of the bus lane on the roundabout, below the A470 fly-over only, and the footpath on the roundabout which connects the retail park to Bridge Street – including the two pedestrian crossings.
There will also be single-lane closures on the northbound approach to the roundabout during consecutive Sundays (February 3 and February 10), from 6am to dusk. An overnight road closure could be required on February 3/4 to ensure the works are complete by Monday morning's peak traffic period.
Posted on Thursday 24th January 2019