Fernhill schoolboy Logan Beazley's dream day
Fernhill schoolboy Logan Beazley's dreams came true when he was invited to be a mascot for a premiership football team - and enjoyed VIP treatment thanks to a player's wife.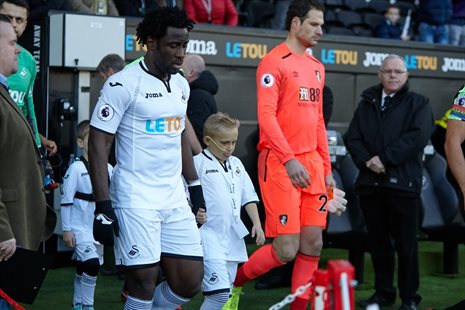 The once-in-a-lifetime experience was organised for Logan by his Community Support Worker Rhian Lloyd, who is part of Rhondda Cynon Taf Council's Community Support Team, providing children and young people with disabilities opportunities to access local community-based activities with support while developing their skills and independence.
Logan, who suffers from a rare condition that affects his liver and has left him desperately poorly as he awaits a transplant, loves football and watches it at every opportunity he can.
Because of his condition, he is unable to take part in the extended sporting activity as it leaves him tired. Knowing how much he loves the game, Rhian contacted Swansea City FC to ask if Logan could be a mascot at one of their matches - and they pulled out all the stops!
Logan, 10, who attends Glenboi Primary School, attended the Liberty Stadium with Rhian, as well as his mum, Rebecca, and younger brothers Shay and Logan.
He walked out with the team as they prepared to face Bournemouth, holding the hand of Wilfried Bony.
As they settled in to watch the game, they caught the eye of Swansea captain, Angel Rangel's wife, Nikki. She invited the entire family into her VIP area where she gave Logan blankets to keep him warm and provided him with as much fizzy pop and sweet treats as he liked.
She also invited Logan and his family to stay after the match and meet her husband.
At halftime, Logan, Shay and Ashton were able to take to the pitch and take penalty shootouts, which they all loved and all left at the end of the match with a huge bag of merchandise!
Cllr Tina Leyshon, Rhondda Cynon Taf Council's Deputy Cabinet Member for Children and Young People, said: "What an exciting day for Logan and his family and well done to Rhian for pulling it off.

"Rhian works with Logan after school to ensure he can enjoy positive social activities, as his condition has such an impact on him and his ability to join in with other children of his age. She works to ensure he does not miss out.

"She is a key member of the Community Support Team, who work with children and young people to ensure they enjoy getting involved in interests and also developing independence skills, such as shopping, crossing the road, using buses and trains and so on.

"The Community Support Team work across the county borough to ensure everyone can enjoy activities, independent living and develop their skills, confidence and interests, irrespective of disability.

"This was something Logan had dreamed of doing. He is a massive football fan and wanted to be a mascot. Our thanks go to Swansea and the players for being so welcoming and accommodating."