Dog owners warned to keep dogs on leads
With the lambing season well underway, NFU Cymru is calling on dog owners to keep a tight rein on their pets when out in the countryside.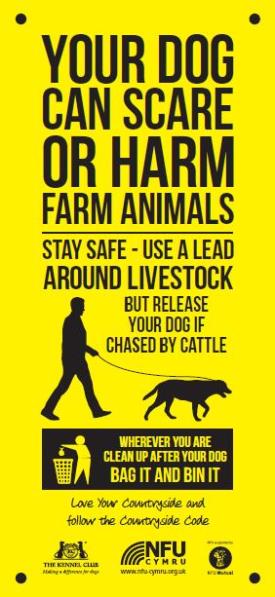 NFU Cymru Group Secretary for Pwllheli and Caernarfon, Hedd Rhys, has seen at first-hand the devastation that sheep worrying causes to livestock and farmers. He said: "We need the cooperation of the public to help to eliminate sheep worrying, which has become a perennial issue. While we understand dog owners need to exercise their pets and enjoy walking in the countryside, they should understand the need to keep dogs on leads when around farm animals. It should be common sense. 

"While there is an obvious financial loss for farmers, such attacks on sheep and lambs cause senseless suffering and death to the animals, huge distress and the aftermath can be terrible to witness.

"Sheep at this time of year are either heavily pregnant or have young lambs at foot, this together with a thick coat of wool makes them particularly vulnerable to attack by dogs. For every animal that is killed from dog worrying many others suffer terrible injuries and lose their lambs.

"Unleashed dogs pose a very real threat to sheep and lambs, they can chase, attack, maim and kill. It's a situation that cannot be allowed to continue, so we are asking responsible walkers and dog owners to report those who transgress. While we wish to see the public and their pets enjoy their time in the beautiful Welsh countryside it is important to spare a thought for the livestock that graze there too.

"I would like to thank those responsible dog owners who do keep their dogs on a lead around livestock, it really is appreciated." 

NFU Cymru supplies dog warning signs in Welsh and English for farmers who keep livestock in fields that have public rights of way running through them. These durable signs, to be placed on fences and posts, can be obtained free of charge by calling NFU CallFirst on 0870 8458458 or by contacting the NFU Cymru office in Pwllheli on 01758 612819 or Caernarfon on 01286 673377.